Dechen Shak Dagsay
the Art to share light
Dechen Shak-Dagsay is a Swiss-Tibetan artist who has performed in leading concert halls around the world, such as the Carnegie Hall in New York, the KKL Luzern and the Berliner Dom. She has also released numerous albums, among them the award-winning 'Dewa Che' and 'Jewel'. Dechen positively transforms many peoples hearts by singing ancient Tibetan mantras with her pure and touching voice. Her recent music has been produced and composed by Helge van Dyk and carries a universal message for peace, love, compassion and reconciliation for the world. 
Through the success of her music, and the BEYOND musical project where she represents the Buddhist voice, Dechen initiated the DEWA CHE foundation that supports several social projects in Tibet. The aim of the projects is to help young Tibetans become self-sustainable in the long run by offering vocational trainings.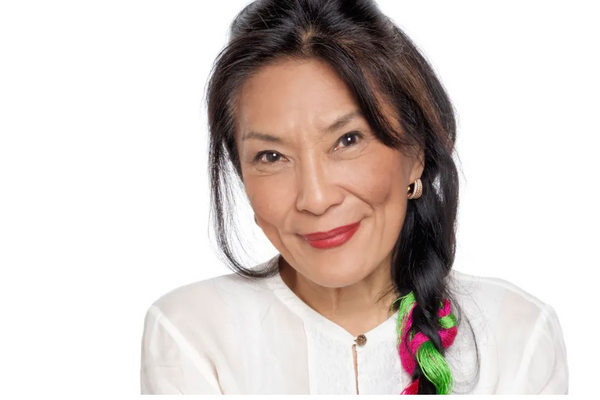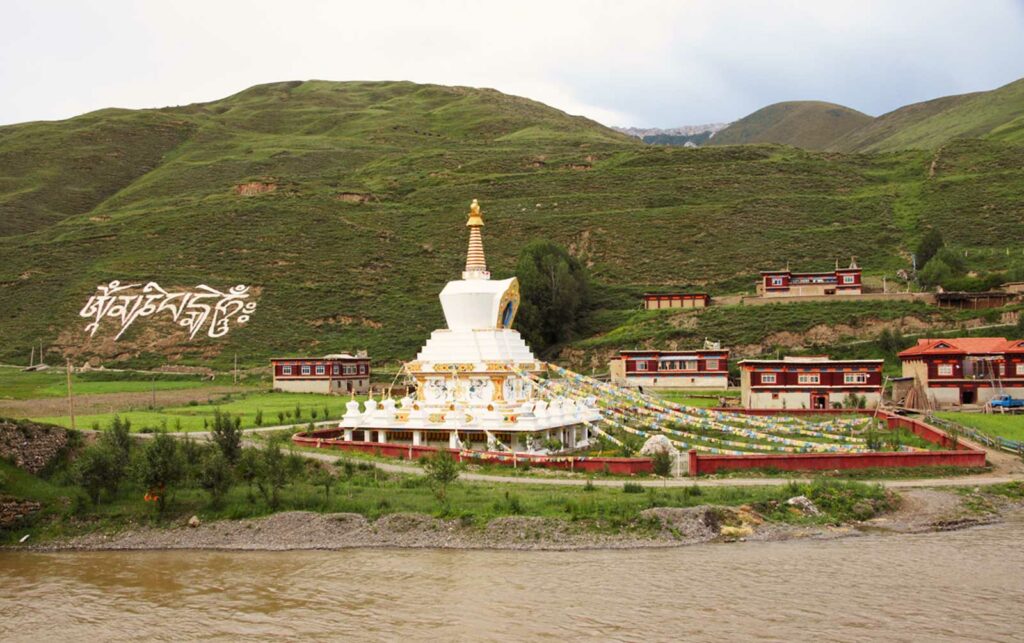 Dechen's tailoring project was founded in 2010 and has to date offered training to over 300 young Tibetans. This was supported by the generous donation of sewing machines from the Swiss company Bernina.
Another project is an automobile repair station that was founded in 2012, operated by the young monk Lobsang Jampa who has a great passion for cars. Together with a Chinese car mechanic teacher Mr. Ling Jian from Chengdu, they are teaching young boys the skills to repair cars so that one day they will be able to run their own automobile repair stations in Tibet.
We are happy to inform you that part of the sales revenues from DECHEN's JEWELS are used to sustain the social projects of the DEWA CHE foundation. With each purchase of a DECHEN's JEWELS product you are helping us to further our efforts. Thank you very much for that!
Jewel Bags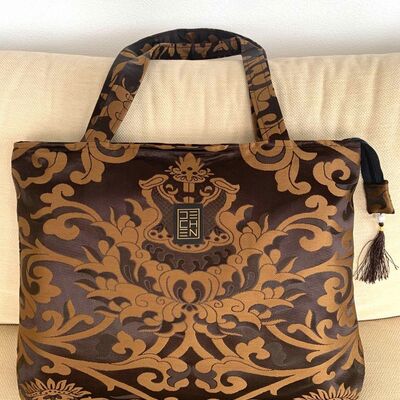 Wunderschöne grosse, 'JEWELBAG' aus kostbarer Brokatseide mit Reissverschluss.
Die Tasche hat eine Seitentasche mit Reissverschluss und einen praktischen Schlüsselanhänger.
Hergestellt von Tibeter/innen, die eine Ausbildung in der Nähschule in Chokri in Ost Tibet abgeschlossen haben.
120 €
Länge 32 cm
Breite 46 cm
Material: Brokatseide
Farbe: blau
Music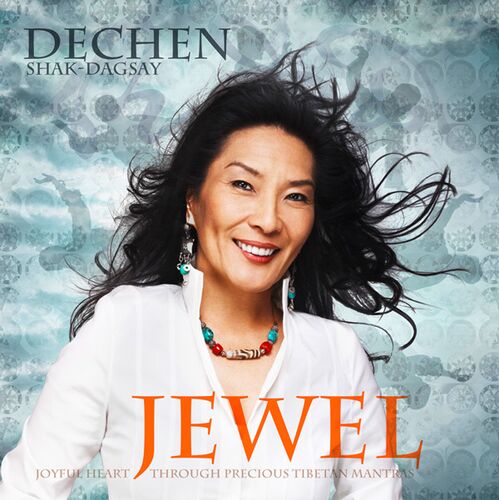 Jewel CD
"JEWEL" PROLOGUE 3:46
MEDICINE BUDDHA 9:09
PRAISING TARA 6:53
100 SYLLABLE MANTRA OF VAJRA SATTVA 7:18
VAJRA GURU 8:06
HEART SUTRA 6:28
TARA 9:28
AMIDABA 9:01
CHENRESI 9:30
"JEWEL" TAKING REFUGE IN THE THREE JEWELS 8:43
25 €
Day Tomorrow CD
KURUKULLE
LE BONHEUR 'AMALEHO'
I WON'T GO FAR
BLACK TARA
IMAGINE WITHOUT
DAY TOMORROW
SHINE OF LAPISLAZULI
BEISHRA WANAYE
EVEREST 'JOMOLANGMA'
CALLING THE ELEMENTS
LOVE SONG
REPRISE
25 €
Emaho CD
Die Musik kommt in zwei CDs. Auf "emaho" 1 hören Sie während einer Gesamtzeit von 53,29 Minuten die ruhigen Stücke der Arya Tara, die ihre beruhigende und anziehende Aktivität repräsentieren. Auf "emaho" 2 werden Sie die kraftvolle und anregende Musik hören, die die Tara in ihrer erweiternden und herausfordernden (drohend) Aktivität zeigt. Auf 'emaho 2' finden Sie als Kontrast auch ein besonders, beruhigendes Stück mit dem Titel 'Peace of Mind', das Sie augenblicklich in eine andere Sphäre führen wird.
35 €
Books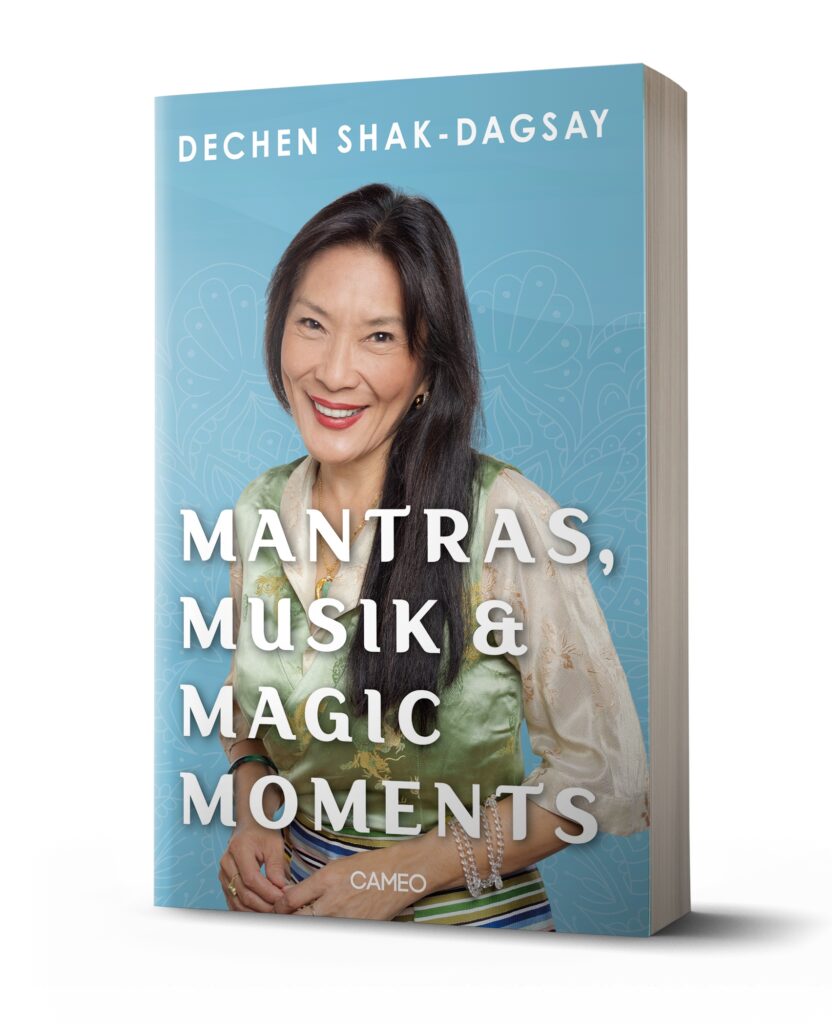 'Die universelle Kraft der Musik ist das verbindende Element zwischen allen Menschen.Sie hat mir den Weg zu den Herzen ermöglicht. Ohne die Musik wären die kostbaren geheimnisvollen Mantras aus Tibet vielen Menschen verborgen geblieben.'
Dechen Shak Dagsay
25 €