Embawo
the Art to connect to nature
Ethical Manufacture for Bags and Accessoires in WOod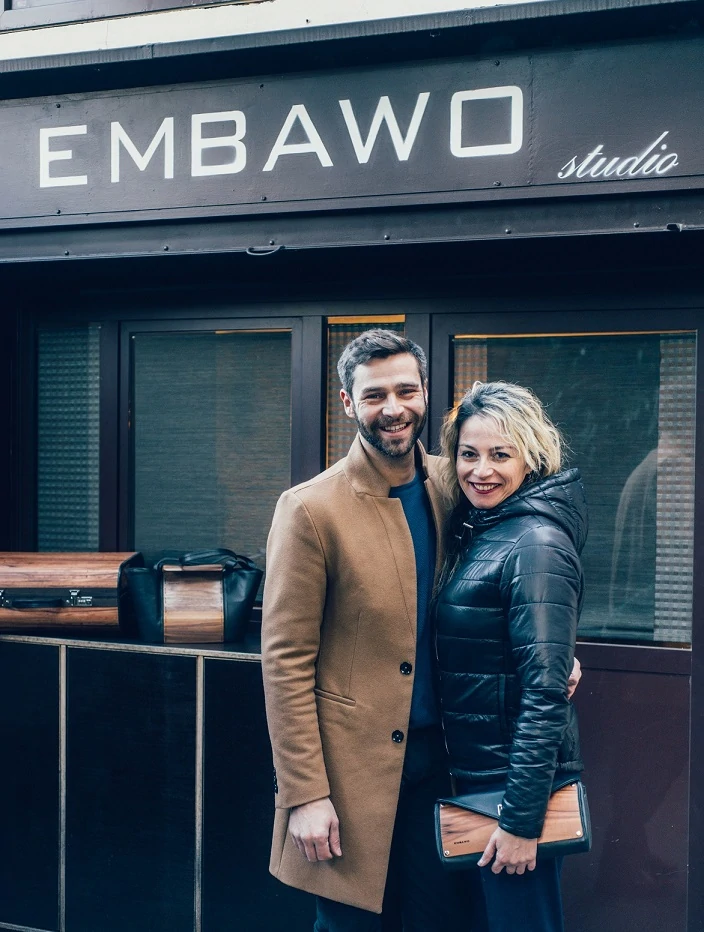 EMBAWO stands for high-quality, handmade handbags made of wood and leather in elegant design, sustainable and innovative.
Each piece is unique and made by nature. EMBAWO stands for class, clean and harmonious lines and natural design.
EMBAWO was founded in 2009 by Norbert Öttl, a trained carpenter from Merano who has travelled the fashion capitals of the world for years.
For Norbert it was and is a great concern to bring the wonderful raw material wood into fashion and to show it to its best advantage. Wood is timelessly beautiful, unique and radiates a special warmth.
Wood is also a renewable raw material and therefore enables very sustainable production.
With EMBAWO, Norbert has combined his two passions, craftsmanship and design.
EMBAWO products are mainly made from regional woods in South Tyrol (Italy) with great attention to detail.

Exclusive lifestyle made of wood and leather
Highest craftsmanship, creations by EMBAWO are unique pieces created by nature, exclusive and unique with that special wow factor.
The natural design and the harmonious lines make EMBAWO products a special eye-catcher.
Stylish, timeless and trendy.
Sustainable ecological
Raw materials and production
For their products, they use domestic woods such as maple or olive.
However, other woods such as zebrano or rosewood are available upon special customer request.
Sustainability and ethical production play a major role.
Craft & Design
Their products are designed and manufactured in South Tyrol (Italy) in elaborate and loving handicraft.
The different colours, the bends of the leather, the knots and irregular fibres in the wood are the natural characteristics of the raw materials and testify to the authenticity of materials that have not been altered by processes and varnish.
Even a possible imperfect finish is not a defect, but characterises the craftsmanship in the production.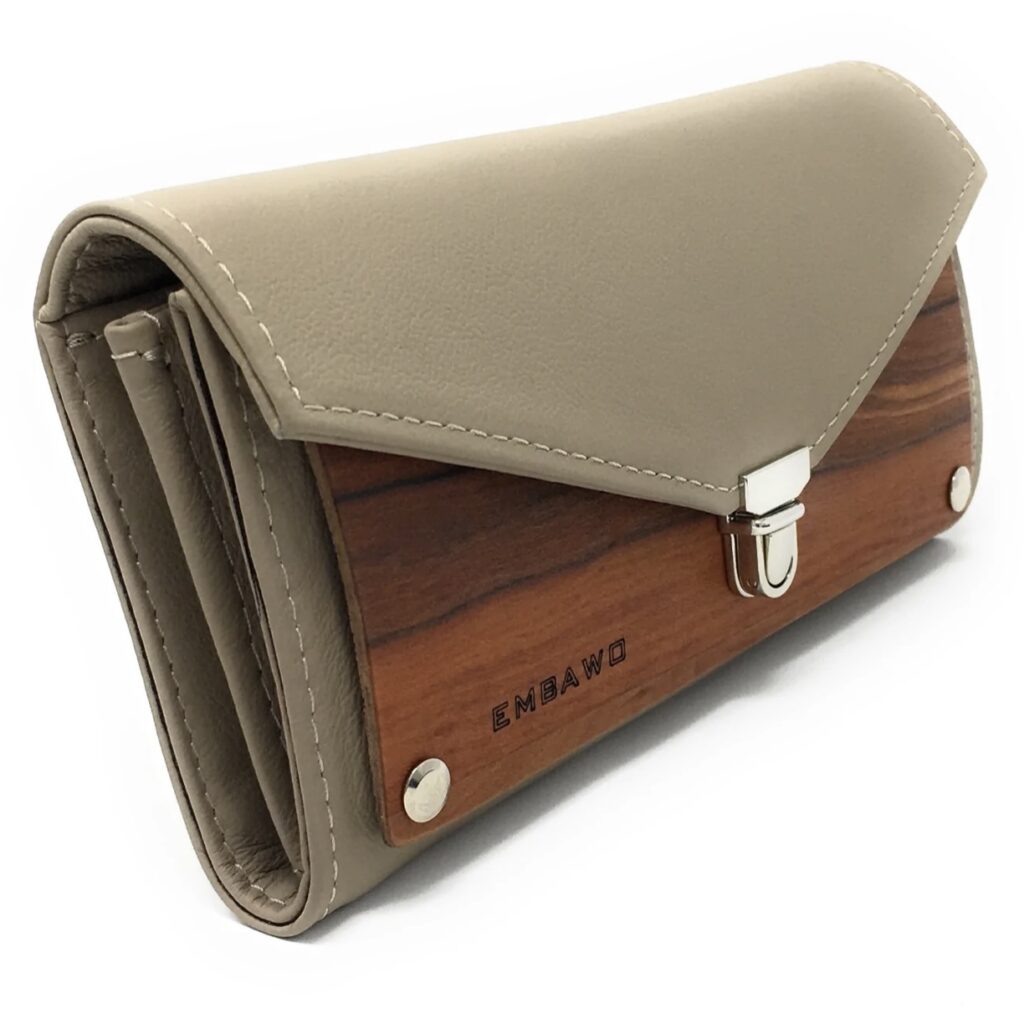 This ladies purse has the shape of a small clutch, is the size of a small envelope and has a wooden insert at the front.
The interior is made of microfibre with 6 credit card slots, as well as a coin section that is equipped with a zip.
The closure consists of a snap-in metal tongue.
cm 20x3x9,5 – gr 130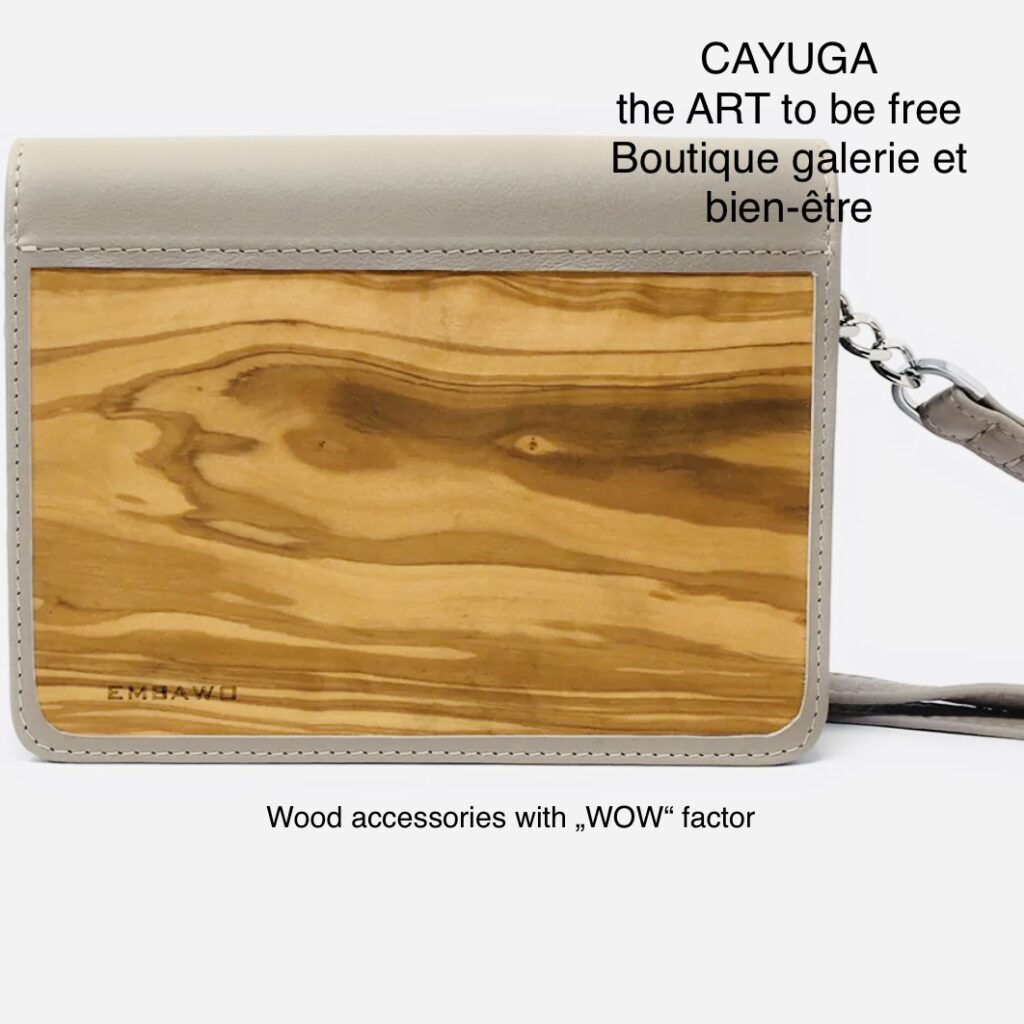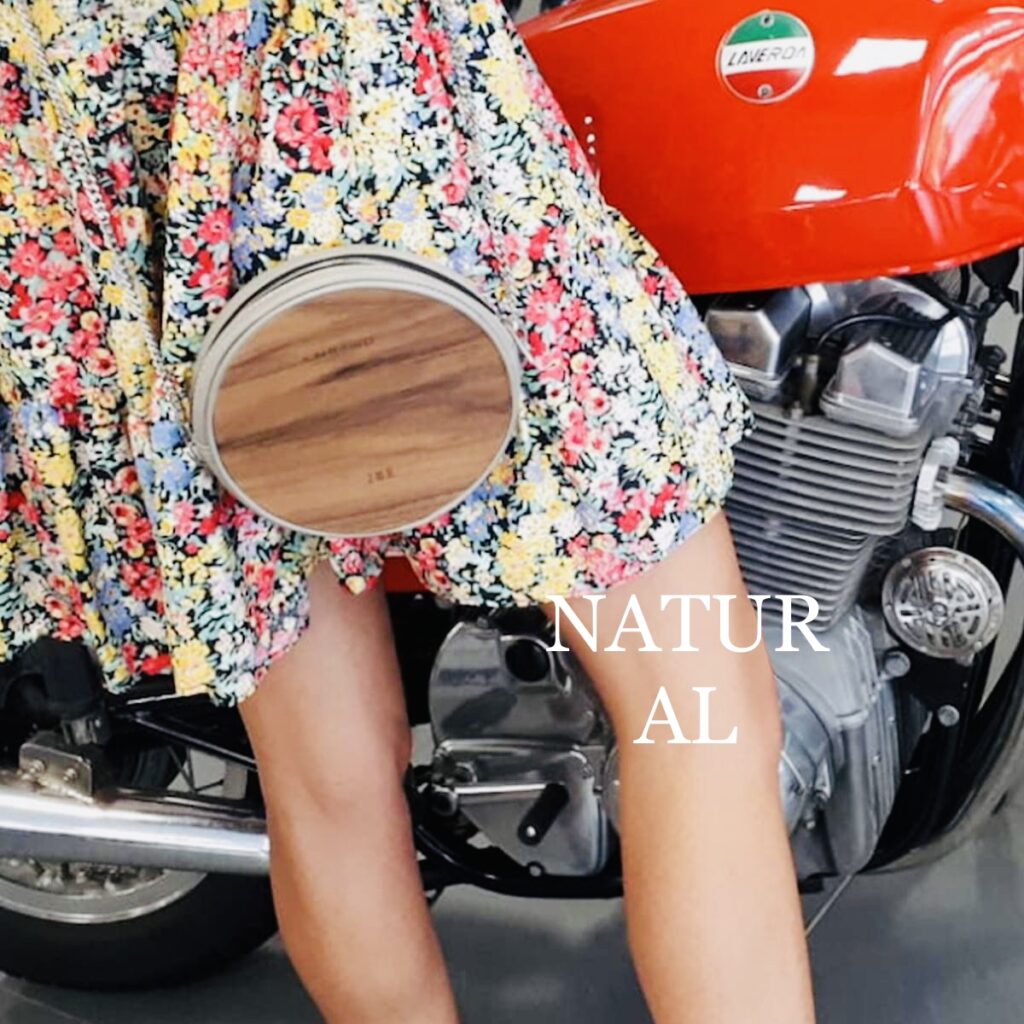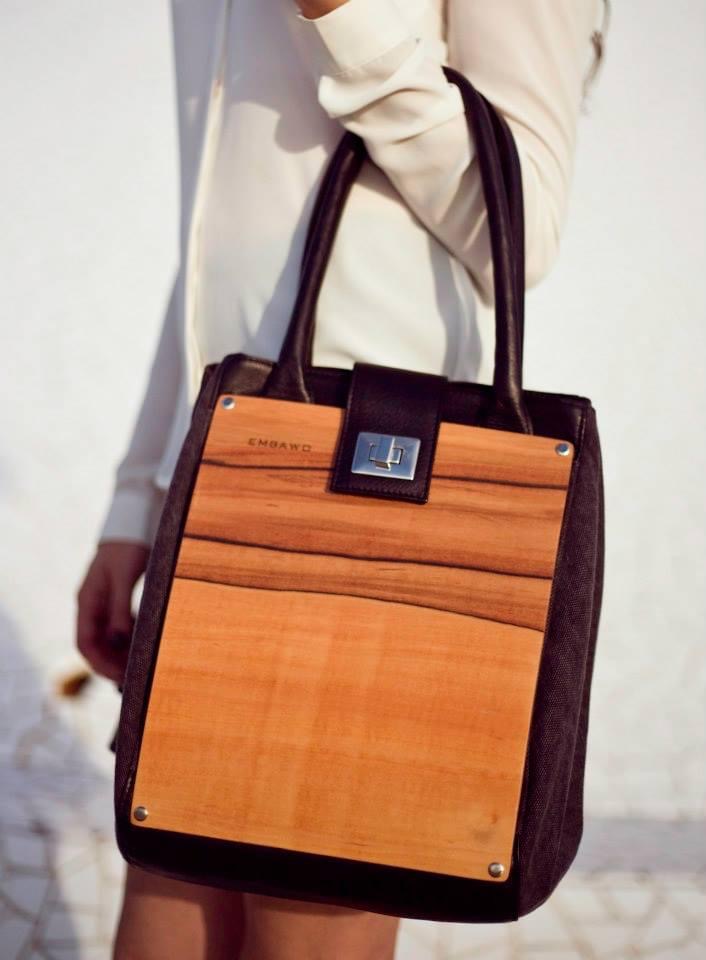 CARLOTTA cm 26,5-10,5-36 gr 500 290€ this handbag is made of wood, genuine leather and canvas tissue, it has two pockets inside and the closure is made of metal lock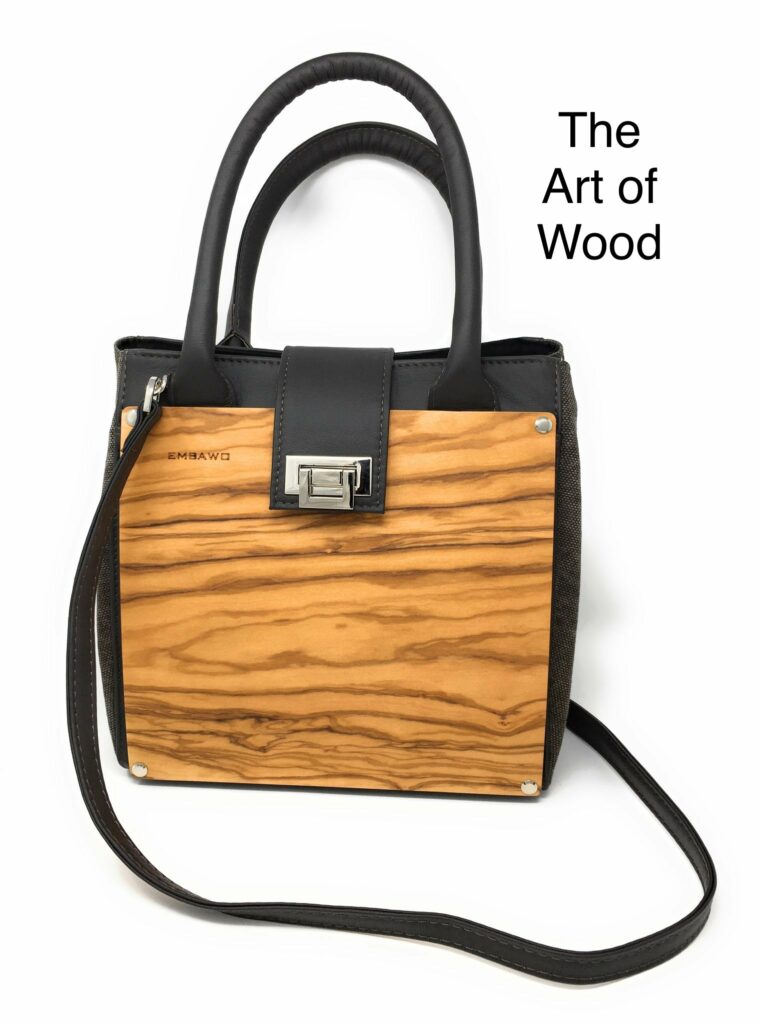 CARMEN cm 24-10,5-26 gr 400 280 € this handbag is the little sisiter of Carlotta, it has shorter handles and a leather belt, inside it has a zip pocket and the closure is a metal lock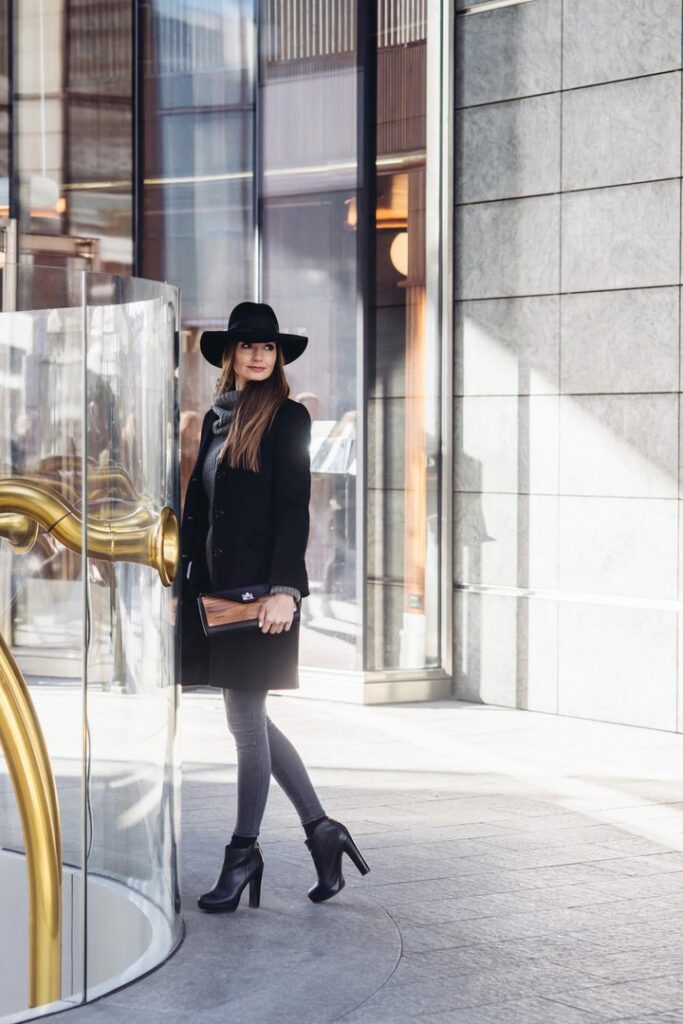 LAURA cm 31-5-14 gr 350 235 € this clutch handbag is made of wood and genuine leather, with a chain, the closure is metallic and the interior is covered in fabric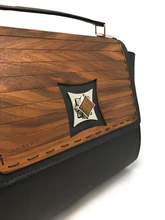 VIOLETTA cm 40-13-30 gr 700 385 € in this handbag, the distinctive presence of wood is sewed in the leather flap where the metal wooden closure is also inserted. It has a leagther handle on the top and a removable leather belt, the interior is in fabrics with an interior pocket with a zip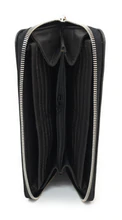 CAREN wallet cm 21,5 x 1,5 x11,5 gr 25o 195 €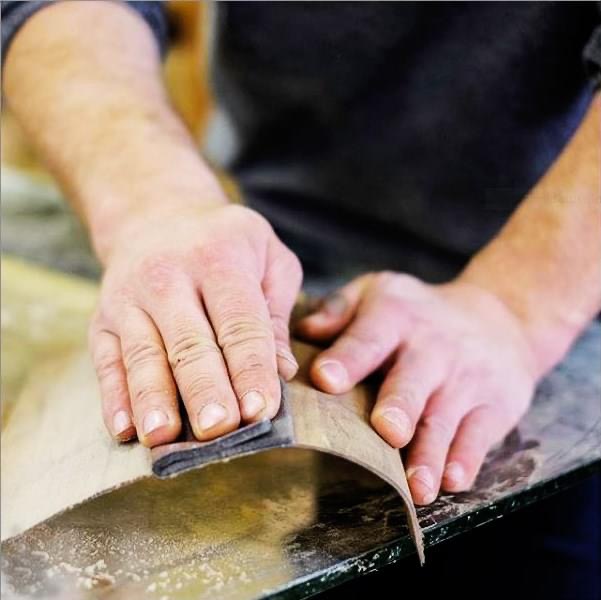 Squared Belt 99 €
Oval Belt 99 €